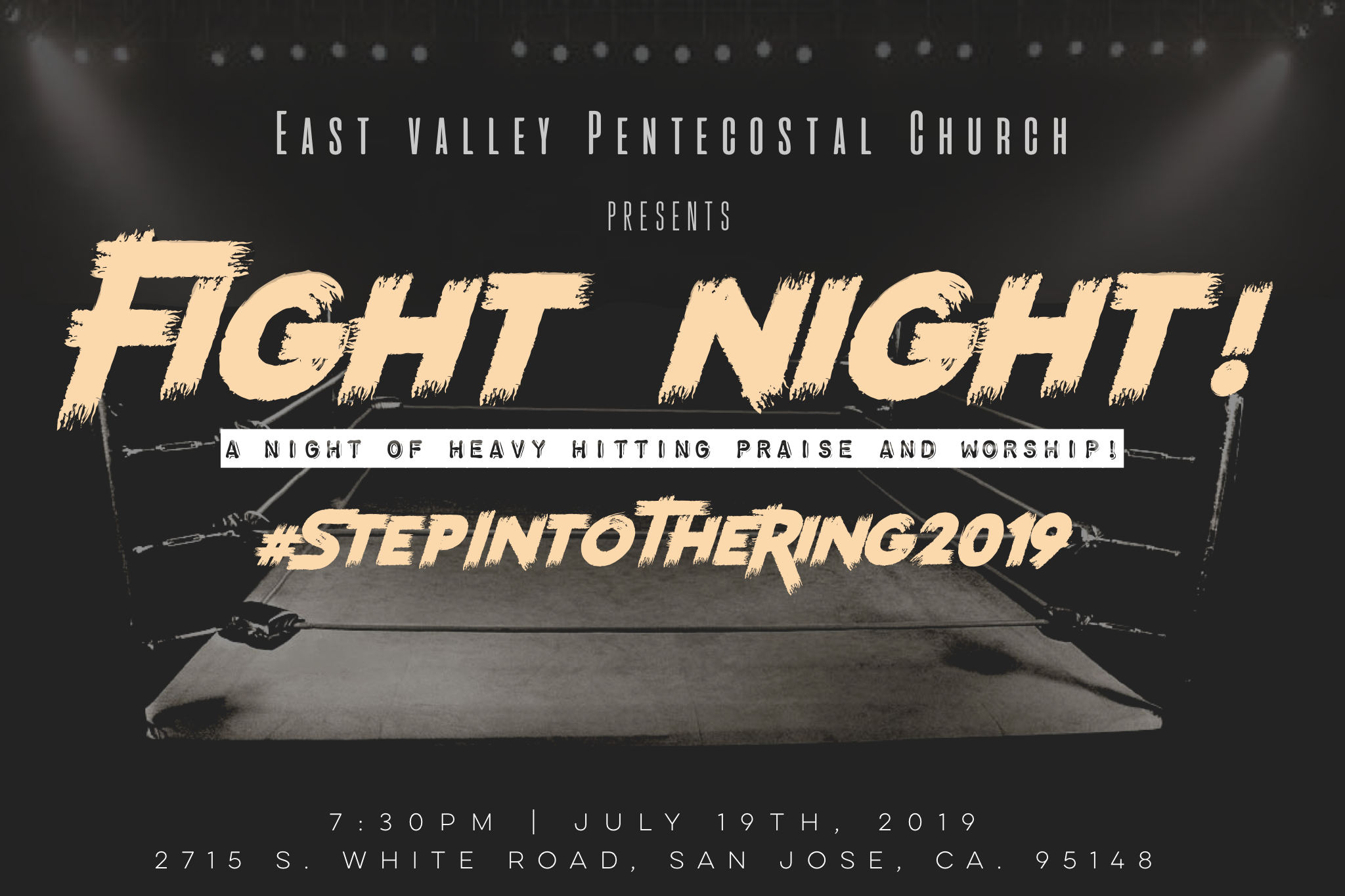 Be apart of a life changing event in San Jose, Ca. that has drawn together the likeness of recording artists and passionate individuals who are sick and tired of simply being sick and tired! We are putting together a one night event to encourage everyone involved and those in attendance to Step Into The Ring and FIGHT for the Kingdom of God, for this generation, for righteousness, and for those struggling to continue their walk with God!
"Wherefore take unto you the whole armour of God, that ye may be able to withstand in the evil day, and having done all, to stand." - Ephesians 6:13
A NIGHT OF HEAVY HITTING PRAISE AND WORSHIP!

Mission Statement: Fight Night seeks to guide the audience, specifically the youth and young adult listener, on a journey from struggle, to victory and subsequently to their testimony through song and dramatic presentation.

Statement of Purpose: Our generation of youth and young adults have distinguished ourselves a visual learners and self-proclaimed autodidacts. Give us the proper tools, and we will quickly develop a cursory knowledge on any subject matter and be prepared to share with confidence with their peers. This is true of almost everything except the Christian journey. It seems that this generation has silenced themselves during times of struggle more than any previous generation. They have been conditioned to suffer in silence and pray the pain away. But what if they are only one audible praise away from their promise? What if the enemy is one praise punch away from defeat in our lives? At this one night only concert, we are removing the muzzles and lifting up our voice to declare that the God of the mountain is the same God in the valley. We are putting on our boxing gloves and we are fighting until we receive victory through powerful praise and reverent worship. And we are prepared to leave this encounter and share what God has performed in us. Its time to fight, overcome and testify. Are you ready for Fight Night?
The Nor Cal Apostolic Voices of Praise will be making its first appearance and would like you to be apart. Especially those who are native to the Nor Cal region, but we are open to anyone who is wanting to minister through music and wanting to do it in a big way!
Come be apart of Nor Cal Apostolic family and get ready to minister throughout the the multiple regions God leads this group towards. If you are wanting to join just simply fill out the form below and we will contact you shortly.